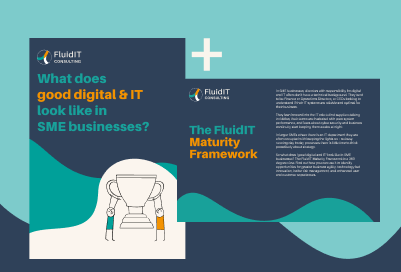 Download your free copy of
What does good digital & IT looks like in SME businesses
+
The FluidIT Maturity Framework
What does good digital & IT look like in SME businesses?
The guide is written in plain English for non-technical directors and managers with responsibility for IT.
The accompanying Framework is a means to benchmark the business's current level of digital and IT maturity and set operational targets.

It's aimed at SME businesses who either don't have in-house IT or a limited department, who don't have the budget of larger competitors and are looking for ways to extend and improve their existing technology.

It includes:
360 degree view of everything the non-technical director needs to consider from managing cyber security risks to opportunities for technology-enabled growth

Case studies from northern SME businesses like Whitby Seafoods, Checkmate Fire Solutions and ZyroFisher

A guide to using the accompanying FluidIT Maturity Framework.